Devendra Banhart and Rokia Traoré review – Nonesuch 50th birthday festival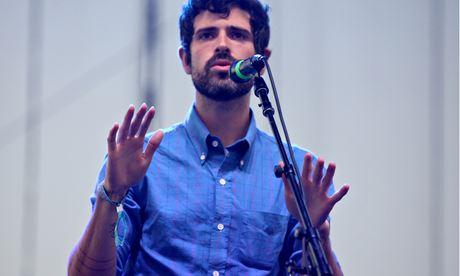 Nonesuch Records deserves a birthday celebration. Launched in New York 50 years ago as a budget classical music label, it has developed into a classy and adventurous company with a roster that includes jazz, rock, world and folk artists, from the Kronos Quartet and Ry Cooder to Carolina Chocolate Drops. Like Island Records in the 70s, it's a label with bravery, intelligence and taste.
It was unfortunate, then, that this opening night of a month-long series of celebratory concerts didn't quite hit the mark, despite the efforts of the tirelessly professional Rokia Traoré. It would have been good to see some innovation and unexpected collaborations. This concert began with an overlong solo set from one of the label's more recent signings, the American-Venezuelan singer-songwriter Devendra Banhart, who perched on a stool clutching an electric guitar, looking like a neat academic in his beard and short-sleeved sweater.
Banhart has a glorious voice that can ease from an intimate low croon to falsetto, and he switched between cool Spanish ballads to well-observed, languid and slinky pop ballads, such as the new Golden Girls, Won't You Come Over, and a tribute to Orange Juice. But he only did justice to some of his material. There was far too much rambling chat and too many brief snatches of songs. He needed a band to control him.
Rokia Traoré, who followed, was in powerful form, backed by her own electric-guitar playing and a four-piece guitar and n'goni band. There was one mini-collaboration – Banhart came on briefly to add guitar work to Sarama, Traoré's celebration of African women – but otherwise there were no surprises. She started with the slow and bluesy Dounia and ended by dancing furiously to Beautiful Africa, with the crowd now on their feet.